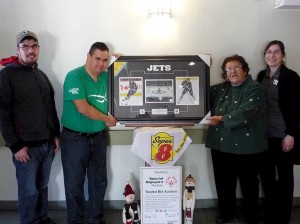 Submitted by:
Shirley Todosichuk |
Special Olympics has teamed up with Western Corporate Solutions to provide high quality framed sports and entertainment memorabilia for sealed bid auction.
Click any picture for a larger version.
Unveiling the Jets Opening Night Triple Play Framed Print at the Super 8 in Swan River are Special Olympic Athletes (L-R); Ricky Zimmer, Andy Brass, and Lorna Chartrand with Karen Priebe, Guest Services Agent, Super 8.
Head to the Super 8 Motel and the Westwood Inn to bid on our fabulous pieces.
Just fill out the ballot (must meet minimum bid) and submit it into the locked ballot box before the closing date stated on the infoboard. The prints will change every 2 weeks, so come on down and check out what is new.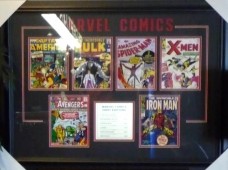 The Marvel Comics First Editions Framed Print is up for bid at the Westwood Inn lobby.
These two prints would make great Christmas gifts! The closing date for both prints is December 17th with delivery for Christmas. Put your bid in today!
Special Olympics in the Valley receives a portion of the sales from both locations and we thank you for your support. Let the bidding begin!