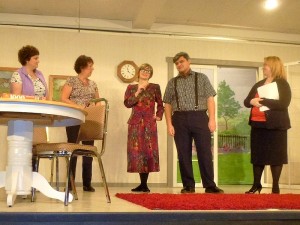 Submitted by:
Lloyd Gilchrist |
The Valley Stage Players' production of Billy St. John's comedy, "Senior Follies" played to very appreciative and enthusiastic audiences on November 27, 28 and 29, 2015 at the Veterans Hall in Swan River.
Click any picture for a larger version.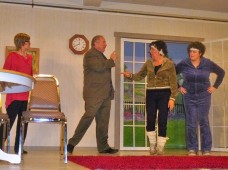 The comedy told the hilarious tale of two con artists relocating to a seniors living complex with the intent of fleecing some residents of their well-earned savings. These two "crooks" soon realized, though, that these seemingly easy seniors 'marks' were not that easy after all!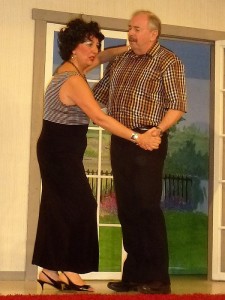 This production was directed by Denis Beaudoin and featured these cast members:
Kathleen Freed, Nancy Yakielashek, Lloyd Gilchrist, Kimbereley Knowles, Erin Brown, Terra Pohl, Justin Langan, Jeremy Bergen, and Tracy Houston.
Stage manager was Lana Edmunds, sound by Nelson Windsor, lights by Barry Chan, set design by Paul Freed, and prompter was David Wright.

The Swan River Daycare hosted a special showing of the production on Friday, November 27, 2015 as a fundraiser for their school aged playground project. Cash Bar and appetizers were served at intermission.
(Following Pictures submitted by River Daycare)