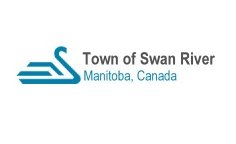 The Council of the Town of Swan River met on Tuesday, November 17th, 2015 at 7:30 pm in the Town Council Chambers with Mayor McKenzie presiding and Councilors Jacobson, Moriaux, Friesen, Whyte and Sakal present.  Councillor Delaurier arrived at 8:15 pm.
Public Hearing – Variation Application No. 2/2015
No persons were present to make representation at the hearing.
Public Hearing – Conditional Use Application No. 2/2015
No persons were present to make representation at the hearing.
Public Hearing – Conditional Use Application No. 3/2015
No persons were present to make representation at the hearing.
Delegation – Police Department – Sgt. Henson and Cpl. Hanna.
The October stats were presented.  Foot patrol is happening during the day when time permits and they hope to start doing some foot patrol at night. They are still dealing with the muffler issue.  In the first week of November there were 54 complaints and 60 complaints in the second week. On Nov. 6th there was a serious vehicle incident which resulted in 2 fatalities.  There have a number of minor vehicle incidents as well. 
Delegation – Heather Nielsen – Economic Development
Heather is the new part time Economic Development Officer for RISE.  More international students should be enticed to come to the Valley.  The lack of air service issue is being handled by the Chamber of Commerce.  Tourism is an important part of Economic Development.  Community development (ie doctor recruitment) is a big part of economic development.
Delegation – SLWCD
Questions:
What does it do for the Valley and what does it do for the Town?
 We are designated by the Province as the "Water Planning Authority" to develop an Integrated Watershed Management Plan to protect, enhance or at least make efforts to slow down the deterioration of our surface water, protect groundwater our soils and biodiversity. This plan is complete and outlines actions and responsibilities for the next 9 years. In the plan development, all public drinking water sites were reviewed and recommendations made to respective municipalities. Water sampling was done in all known wells within a 1 ½ mile radius of these sites. Swan River's water source wells are considered GUI (groundwater under influence), from surface water.
 
The District completes projects that reduce negative impacts of surface flow, have sealed over 100 abandoned wells to protect groundwater along with source water protection on all the Valley's public drinking water sites, completed 2 fishways that allow large bodied recreational fish (walleye and northern pike) access through Swan River and beyond. These important infrastructure crossings can now be maintained by the Municipalities for years to come and having them greatly reduces significant traffic in the town.
 
Considerable monies are spent annually and circulated locally and obviously Swan River is the main beneficiary.
 
What projects were completed in the town in the past 2 years?
 Continued work on the Cemetery project and our green space of which we get a lot of positive comments. Improved the drainage for our lot and the neighbouring one. We provide and support annually for Envirothon, Oak Hammock Marsh (education in all the schools) and our water festival. Education is important.
Is the Swan Lake membership structure consistent with other membership structures?
 Yes, it is all according to the Conservation District Act, the agreement that the Province signed with all Municipal members prior to the start of the CD, and explained in detail in the agreement that was approved 2006-03-09.
 
Roaring River – Favel Creek Sub-District
Upper Swan – Lobstick Creek Sub-District
Lower Swan – Sinclair River Sub-District
Woody River – Birch River Sub-District
 
Towns and Villages within get to appoint 2 members, and Municipalities with 15 or more square miles get to appoint 2 members to the respective Sub-District. Municipal appointees can be 1 councillor and 1 ratepayer but not 2 councillors.
Resolution No: 1
Moved By: Lance Jacobson
Seconded By: David Moriaux
RESOLVED that the Amended Agenda for the November 17th, 2015  regular meeting of Council be received.
Carried
Resolution No: 2
Moved By: Lance Jacobson
Seconded By: David Moriaux
RESOLVED that the minutes of the November 3rd, 2015 regular meeting of Council be adopted as received.
Carried
Resolution No: 3
Moved By: Lance Jacobson
Seconded By: David Moriaux
RESOLVED that the Variation Application No. 2/2015 by 6182403 Manitoba Ltd./Joel Delaurier to allow the reduction of the site area from 1500 square feet to 838 square feet for Unit 1, 924 square feet for Unit 2, 819 square feet for Unit 3, 820 square feet for Unit 4, 924 square feet for Unit 5 and 838 square feet for Unit 6 for the dwelling located on Lots 11 and 12 Block 18 Plan 286 DLTO (126 7th Avenue North, Swan River) be hereby approved.
Carried
Resolution No: 4
Moved By: Lance Jacobson
Seconded By: David Moriaux
RESOLVED that the Conditional Use Application No. 2/2015 by 6182403 Manitoba Ltd./Joel Delaurier to allow bare land condominiums within a "CC" Central Commercial Zone at Lots 11 and 12 Block 18 Plan 286 DLTO (126 7th Avenue North) be approved.
Carried
Resolution No: 5
Moved By: Lance Jacobson
Seconded By: David Moriaux
RESOLVED that the Conditional Use Application No. 3/2015 by Preston and Irene Hartwig to allow a secondary suite within a "RS-6" Residential Single Family Zone at Lot 10 Plan 1603 DLTO (1350 2nd Street South) be approved.
Carried
Resolution No: 6
Moved By: David Moriaux
Seconded By: Lance Jacobson
RESOLVED that the Town purchase an ad in the Swan Valley Snowmobile Club 2015/2016 snowmobile map for the amount of $150.00 plus GST.
Carried
Resolution No: 7
Moved By: David Moriaux
Seconded By: Lance Jacobson
RESOLVED that the Town purchase an ad in the Valleybiz Christmas greeting section for the 2015 Christmas season for the amount of $99.00 plus GST.
Carried
Resolution No: 8
Moved By: David Moriaux
Seconded By: Lance Jacobson
RESOLVED that the Superintendent of Works Report be received.
Carried
Resolution No: 9
Moved By: David Moriaux
Seconded By: Lance Jacobson
RESOLVED that the October 2015 By-Law Enforcement Officer Report be received.
Carried
Resolution No: 10
Moved By: David Moriaux
Seconded By: Lance Jacobson
RESOLVED that the October 2015 RCMP Crime Stats report be received.
Carried
Resolution No: 11
Moved By: David Moriaux
Seconded By: Lance Jacobson
RESOLVED that Mayor Glen McKenzie and Chief Administrative Officer Julie Fothergill be authorized to sign the Landfill Credit Procedures Agreement with the Municipality of Swan Valley West.
Carried
Resolution No: 12
Moved By: Duane Whyte
Seconded By: Jason Sakal
RESOLVED that the 2015/16 Standing Committee Appointments be hereby approved.
Carried
Resolution No: 13
Moved By: Duane Whyte
Seconded By: Phylis Friesen
RESOLVED that the Financial Statements for the month ended September 30th, 2015 be adopted as received.
Carried
Resolution No: 14
Moved By: Phylis Friesen
Seconded By: Jason Sakal
RESOLVED  that the following outstanding accounts be cancelled.
Dec 20th, 2011 -#6326 – $   325.50
Aug 20th, 2013 -    #8268 -     $ 1,286.25      
Dec 3rd, 2013 -                     $   567.87
July 31, 2014 -       #9482 -     $     36.21
Jan 21, 2015 -        #9967 -     $   109.00       
Dec 14th, 2014 -    #1832 -      $   530.95
Carried
Resolution No: 15
Moved By: Phylis Friesen
Seconded By: Jason Sakal
RESOLVED  that the accounts as follows be hereby approved for payment.
1. General Accounts from Cheque No.17856 to No.17905 for a total of $448,264.26.
2. Payroll Account from Cheque No. 3663 to No. 3670 for a total of $107,634.58.                  
Carried
Resolution No: 16
Moved By: Jason Sakal
Seconded By: Phylis Friesen
RESOLVED that, pursuant to Section 152(3) of the Municipal Act, Council go into Committee and close the meeting to the public.
Carried
Resolution No: 17
Moved By: Jason Sakal
Seconded By: Phylis Friesen
RESOLVED that pursuant to Sections 152(4) of the Municipal Act this meeting be reopened to the public.
Carried
Resolution No: 18
Moved By: David Moriaux
Seconded By: Jason Delaurier
RESOLVED that Lots 9, 10 & 11 on Currie Road North be sold for a total of $50,000 which includes one water/sewer service.
Carried
Resolution No: 19
Moved By: Jason Sakal
Seconded By: Phylis Friesen
RESOLVED that this regular Meeting of Council now adjourn.
Carried