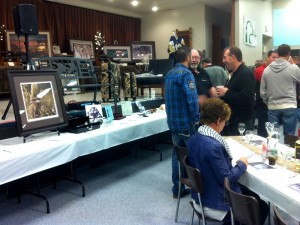 Submitted by:
Patty Gattinger |
The Swan Valley Ducks Unlimited committee hosted their 34th Annual Banquet and Auction on Saturday, October 24, 2015 at the War Veterans Community Hall.

Click any picture for a larger version.
With doors opening at 5:30 p.m. the evening began with numerous delicious hor d'oeuvres being served by the catering staff from Y Not Johnny's.
While taking in the food and cocktails guest were able to view all of the numerous items in the Silent and Live Auctions. Also raffle tickets were sold at this time with a chance of winning a variety items.
Some of the items up for bidding in the auctions were items that had been donated to our committee from the estate of the late Dick Walker, one of our committees founding members.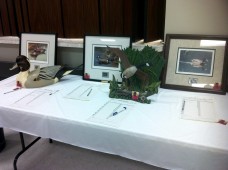 Over the years, Mr. Walker acquired a vast Ducks Unlimited collection. Money raised from these items will be used to support the Walker Family Educational Fund. This fund has been set up by the local Ducks Unlimited Committee to support the continuing education of our Valley students.
Numerous classrooms each year spend a day at the Interpretive Centre learning about all the Valley has to offer – our forests, marshlands, lake and rivers and how they affect the industries and recreational aspects of our everyday lives.
Following our supper, long service awards were handed out. Members receiving recognition were: Dave Theunissen – 35years, Ward Perchuk – 20 years, Wayne Antichow/Wade Cable – 10 years.
After numerous raffle draws our Live Auction began with Randy Hart being the auctioneer. The crowd was kept entertained with Randy doing his best to draw out increasing bids and well as joking with numerous members of the crowd.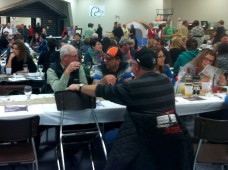 Everyone in attendance was treated to an enjoyable evening and we as a committee were able to go home at the end of the evening having hosted another successful event.