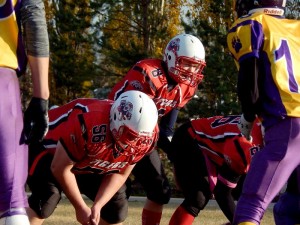 Submitted by:
Leigh Osatchuk |
The Swan Valley Tigers played a great game against the visiting Virden Golden Bears on Friday afternoon. The weather co-operated, which enticed many fans out to show their support.

Click any picture for a larger version.
The game started slow with scoring having the Tigers strike first with a single point, and then shortly after a touch down. #7 Caleb Johnson coming up short for the convert attempt left the score 7-0 in the opening half of the first quarter. Virden didn't take long to answer back and the score was 7-6 Tigers. As the game progressed on we seen excellent field coverage by the defense, #58 Chayce Osatchuk and #42 Brock Mullin both increase their stats with sacks. An awesome rally by the offense continues to put points on the board. #32 Brendan Gilroy did a fantastic job moving the ball, and scoring two touchdowns, along with #20 Robin Sieb scoring one touch down as well. #25 Clayton Spencer runs for one and also puts a convert attempt across.
Around the half the team sees their quarter back go down with an injury. #8 Damian Chernyk, a Grade 9 player steps up to fill Caleb Johnsons shoes. Showing no signs of being a greenhorn, he helps lead the team to a 48-18 victory.
Our next game is Saturday, October 31st as we host a Semi Final game.
Time and opposition is yet to be determined.
There will be a $2.00 admission for all spectators.
Full Concession, and 50/50 Raffle.