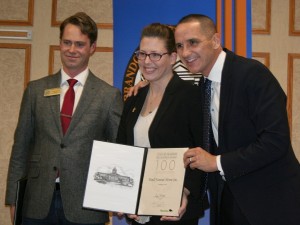 Submitted Story |
It has been an exciting week for Paull Funeral Home. On Wednesday, October 21st, 2015, fourth generation Owner, Funeral Director and Embalmer Dana Paull received the prestigious Century Business Recognition Award.
Pictured Above: President of Brandon Chamber of Commerce, Jordan Ludwig, Dana Paull, Manitoba Minister of Jobs and Economy Kevin Chief.
Click picture for a larger version.
The award was received by Dana at the 2015 Brandon Chamber of Commerce Small Business Week Luncheon held at the Royal Oak & Suites in Brandon, Manitoba.
The honourable Kevin Chief, Manitoba Minister of Jobs and the Economy, presented the award to Dana noting first that Paull Funeral Home and Crematorium had actually served his family in the past. He stated that not only was this a great honour for him but also that himself and his extended family were very pleased with the level of compassion and care they had received from the funeral home during their time of need.
"Receiving this award means so much to me," says Dana "It feels really good to know that Paull Funeral Home's contribution to the Manitoba economy is thought of as valuable and it also means a great deal to me to have heard first hand that our services made a difference to a family that we have served in the past. I am thankful for all of the years that the generations before me spent working hard to serve my community, the legacy that has been left to me and the opportunity to continue my work as a funeral director and embalmer in the Swan River Valley."