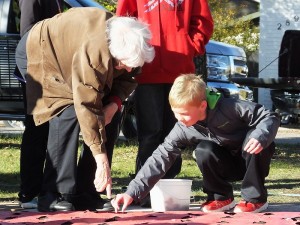 ValleyBiz Story |
Veterans, dignitaries school children and members of the public attended a Planting Ceremony for a 70th anniversary Dutch-Canadian Friendship Tulip Garden in Minitonas on Wednesday, October 14, 2015.
Click any picture for a larger version.
The event was hosted by the Tent Town Garden Club, selected as one of 140 successful applicants across Canada (one of 4 in Manitoba) to receive a 70th Anniversary Dutch-Canadian Friendship Tulip Garden.
The Tulip Gardens are being planted in celebration of the first gift of 100,000 tulip bulbs sent to Canadians in 1945 as a symbol of appreciation for the role the Canadian soldiers played in the liberation of the Netherlands and the hospitality Canada provided the the Dutch Royal family in Ottawa during W.W.II.
700 red and white tulips were planted in the shape of a Canadian flag at the Cenotaph grounds in Minitonas. A bloom Ceremony will be held in the spring.
Pictured above:
Keith Fulford, Minitonas Veteran who served in Holland
– planted one bulb for Canada and one for all Veterans
Walter Mychalchuk, Sergeant at Arms
– planted a bulb for all Legion members
Clinton Eisner, Reeve of the Municipality of Minitonas-Bowsman
– planted one bulb for Manitoba and one for the Municipality
Jr. Garden Club members planted bulbs representing all future gardeners