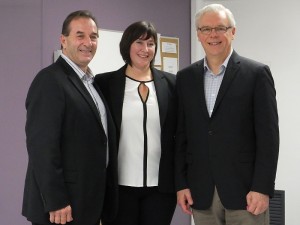 ValleyBiz Story |
On October 5, 2015, The Swan River Day Care Centre celebrated the Grand Opening of their newly purchased and renovated facility on Westwood Road.

Pictured above,
Minister Ron Kostyshyn, Lynda Parsons, Premier Greg Selinger
Click any picture for a larger version.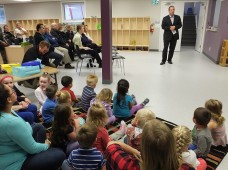 The province contributed $200,000 to the cost of purchasing and renovating the new centre.
With the expansion, the daycare centre now has spaces for 20 infant, 58 preschool and 23 school-age children and all 101 spaces are funded by the province.

"Families are going to have the kind of facility that is the envy of anywhere in the province," said Premier Selinger, adding "You are not going to find a nicer daycare anywhere in Manitoba."
The facility is bright and welcoming, with an abundance of natural light, even in the lower level.
A variety of individualized rooms provide separate spaces for infants, toddlers and after school children and allow for smaller groups of children at various stages of development.
The Swan River Day Care Centre believes in growing their own childcare workers. They provide funding toward staff obtaining Early Childhood Educator II and III qualifications, a designated education room and 2 paid education days a month for on site study.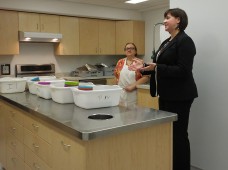 The kitchen was one of the highlights of the tour and is an area of significant importance. The day care centre prides itself in preparing all snacks and meals from scratch and using locally sourced ingredients when possible.

The premier congratulated everybody involved and noted the project was a about partnerships. Lynda Parsons, President of the Swan Valley Day Care Centre Board, echoed that fact, expressing thanks to the many groups and individuals involved:
- Wilf Palaniuk, previous building owner, for making the building affordable to purchase and ongoing interest and support.
- Blaine Campbell and the Swan Valley Credit Union for believing in the community, and the expansion of jobs and childcare spots.
- Glen McKenzie and Town of Swan River Council for their support.
- Ron Lewicki, Project Manager for providing guidance and direction throughout the project.
- Minish Construction (beginning with Reid and continuing with Clayton) for their dedication and quality of workmanship.
- Wayne Fullerton, site project manager, for so many little details that showed how much he cared.
- Board and Staff for the tremendous amount of time and volunteer hours.
- The provincial government and the personal touch and support provided by Keri Irvin-Ross