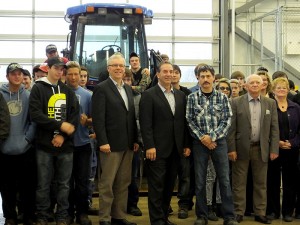 Government of Manitoba Media Release |
Students at Swan Valley Regional Secondary School will soon benefit from a new state-of-the-art construction trades facility and new skills training equipment.

Click picture for a larger version.
Premier Greg Selinger made the announcement at the SVRSS heavy duty Mechanics Shop on October 5, 2015.
"There are tremendous opportunities for skilled workers in Manitoba's construction sector and the Manitoba government is focused on training young people to be ready for those good jobs," said Premier Selinger.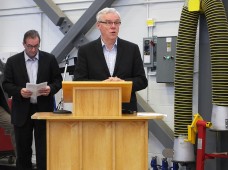 "This is a great time to be in the trades, and this new facility will ensure more students in Swan River and its surrounding communities have the opportunity to develop the skills and real-world experience they need to succeed."
The new, 8,400-sq.-ft. facility will support training in carpentry, general construction skills training, electrical construction and a future plumbing trade program, the premier noted, adding the building construction program is an approved dual-credit program and a Level One pre-employment program through University College of the North (UCN).
The Manitoba government is also investing more than $140,000 for new equipment for the program through the Skills Strategy Equipment Enhancement Fund including tools, planers, jointers, band saws, press, sanders, table saws, routers and work benches.
Other recent investments at Swan Valley Regional Secondary School include:
* $137,952 for a computer numerical control high-speed vertical machining centre at the heavy-duty vocational training facility,
* $260,000 for a new gym floor,
* $4.8 million for a new heavy-duty vocational training facility,
* $125,000 for an overhead crane,
* $1.1 million to renovate two science classrooms, and
* $360,000 for a new ventilation and exhaust extraction upgrade to the power mechanics shop.
Swan Valley Regional Secondary School offers a variety of academic, industrial arts and vocational programming including heavy-duty equipment technician, graphic design, electrical trades, automotive technician and building construction. The Swan Valley School Division has been working with allied institutions and industry partners to provide academic and technical vocational programs for their students that prepare them for employment or post-secondary education and training.
"The Swan Valley School Division has a strong commitment to providing our students with opportunities to learn new skills and obtain trade qualifications," said William Schaffer, board chair, Swan Valley School Division. "This new investment will support our partnership with Apprenticeship Manitoba and UCN, which is creating post-secondary educational pathways and career opportunities for our students."
The premier noted the Manitoba government has launched a comprehensive skills strategy that is creating opportunities for students and helping reach the commitment of adding 75,000 workers to the labour force by 2020.
Construction of the new facility is expected to begin in the spring of 2016, the premier said.