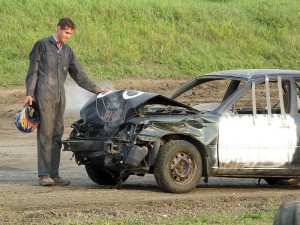 Valleybiz Story |
The Swan Valley Stock Car Club hosted their season ender on Saturday, August 29, 2015.
The club capped off the season with a 4 cylinder demo derby – crashing and smashing until only one car was left running.
Click any picture for a larger version.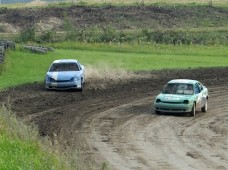 For one last time this year at the Swan Valley Speedway stock cars tore up the track. After 12 heats of 8 cylinder and 4 cylinder races, the drivers entered the pits for the last time this season.
After the races, fans gathered in the pits to talk to the drivers.
A highlight for the kids is the opportunity to take a ride in the stock cars.
The season ended with a bang with 3 cars dueling in a fight to the finish.