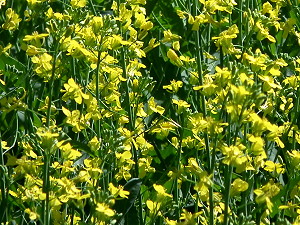 Northwest Region Crop Report Prepared by: Manitoba Agriculture, Food and Rural Development July 6, 2015 |
Northwest Region
Scattered showers throughout the Northwest Region resulted in rainfall amounts ranging from trace to 13 mm. The rain was very welcome but more is needed. Soil conditions remain dry through Swan River, Roblin and Dauphin areas with The Pas and Ste Rose reporting adequate moisture.
Overall, crops are in good to fair condition in the Northwest Region. Early cereals are elongating with approximately 40% of fields heading out; growth in some fields is stunted due to dry conditions. Approximately 85% of canola fields are in the rosette stage with 15% of fields starting to bolt and bloom. Canola ranges from good to fair condition, mostly because of poor and non-uniform emergence.
Peas started to flower throughout the region. Corn is also in good to fair condition with 90% ranging in development from V1 to V5 and 10% V6 to V13 stage. Soybeans are mostly in good condition and have begun to flower.
Some fungicide applications are being applied, both by air and ground, where warranted. Due to dry conditions, disease pressure is generally low.
Isolated showers throughout the region also benefited pastures. Some areas received very little precipitation, so dry conditions remain. Haying and alfalfa grass silage harvest is underway. Pasture and hay fields are in below average to poor condition. Water supplies in pastures are adequate but drying up in several areas.