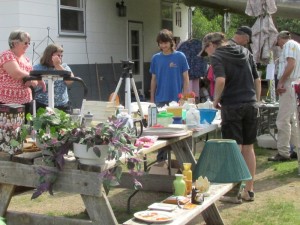 Submitted by:
Debbie Soloway |
The Pine River LUD Committee held their second Annual Summer Start Sale on Saturday June 20th, 2015 9:00 am – 1:00 pm and some families continued until the evening.
Click any picture for a larger version.
The town was busy with the hustle and bustle of everyone looking for that special bargain; there were visitors from as far as Texas and neighboring Saskatchewan along with many from across Manitoba.
There were fifteen families that participated by selling a vast variety of items.

It also gave people the opportunity to shop at the new business in town "The Mega Thrifter" as Laura opened her doors and filled the sidewalk with bargains. Thanks to all out of town visitors and participants, and see you again next year.