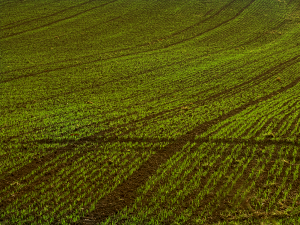 Northwest Region Crop Report Prepared by: Manitoba Agriculture, Food and Rural Development June 22, 2015 |
Northwest Region
Scattered showers and thunderstorms once again moved through the Northwest Region over the weekend. Rainfall amounts were variable, with only trace amounts in Swan River, 13 mm in the Roblin area and 25 mm in The Pas. Most areas throughout the region, with the exceptions of The Pas and the southern part of the region, are still in need of additional rain with crops starting to exhibit stress symptoms from lack of moisture.
The majority of cereals are at seedling/tillering stages with some wheat acres heading out on sandier soils. Generally, canola is still in the seedling stage, while those acres in the Swan River Valley that were not reseeded are in the rosette stage. Cereals in the Northwest Region are in excellent to good condition while canola ranges from fair to poor as a result of dry conditions and reseeding due to frost. Soybeans are in the vegetative stage heading into third trifoliate.
Weed control operations continue as wind and weather conditions allow. Some early seeded crops are approaching stages for fungicide application if warranted.
Spotty rain showers over the weekend resulted in much needed moisture for hay fields and pastures in some areas of the Northwest Region. Pastures and hay fields are maturing rapidly due to heat and reduced moisture conditions. Some fields are being impacted from the lack of moisture in the Roblin and Swan River areas. Alfalfa weevil is being reported in the Eddystone area with extensive damage noted on some fields. Water supply for cattle on pastures is adequate.