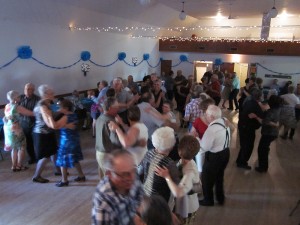 Submitted by:
Edgar Yacyshyn |
On June 06, 2015, Durban Community celebrated the 85th anniversary of their hall by having a banquet and dance.
We had guests from near and far, many from Saskatchewan and as far away as BC.
Click any picture for a larger version.
The band from Winnipeg, The Ukrainian Old Timers, performing shortly after banquet and kept the dance floor filled with great music to dance to. Many thanks to them for a job well done.

Many compliments were given for the great meal which was prepared by our local ladies and all the great work done on decorating,(inside and out) for the event.
Thanks to all who attended and worked and helped out making the event possible and a success. Think we all had a great time. Thanks.