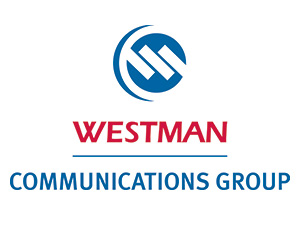 Media Release |
Swan River, April 25, 2015
Westman Communications Group is pleased to announce that with the pending completion of a $1.2 million fibre optic network build Swan River residents and businesses will soon have higher Internet speed options, enhanced video services, and as well for the first time, will have a choice for phone services.
"For the past three years Westman has been offering the fastest Internet speeds in Manitoba. We are pleased to be able to bring our Internet portfolio to Swan River," said Dave Baxter, President and Chief Executive Officer of Westman. "The Internet has become the essential communications tool to enable entertainment, education, and commerce. Our enhanced Internet services will be over 7 times faster than the highest speed currently available in Swan River. For example, downloading a 100 MB file with the current speed choices in town will take approximately 2 minutes while with our Nitro Internet service it will take only 16 seconds. Better user experiences lie ahead for Westman customers when downloading, streaming, and gaming."
Westman has been providing cable TV service in Swan River for over 20 years. With the completion of the fibre connection between Dauphin and Swan River we will now be able to offer over 300 TV channels including over 100 in high definition, as well as our Video On Demand service with over 6,000 titles. "One of the most exciting aspects of our $1 million capital investment is that Swan River residents will have access to Westman's award-winning whole home entertainment service, PRISM", adds Baxter.
"PRISM includes the most advanced multi-room HD-DVR available in Manitoba that connects your entire home," continues Baxter. "With the capability of watching and recording up to six programs at once, TV viewing will now be on your schedule, anytime and anywhere in your home. In addition to many other benefits of digital and high definition TV, Westman PRISM has built-in Internet , Wi-Fi and Phone options."
The addition of Home Phone to Westman's services in Swan River means that for the first time, Swan River residents can choose who provides their phone service. Westman's phone service includes free features, such as Call Display, Voicemail, Call Waiting, and if you choose, you can keep your current phone number. Baxter points out, "Based on our experience in markets where we have recently launched Home Phone service, we expect it to be popular. It's easy to switch—just call our office and we'll take care of all the details," stated Baxter.
Westman will be hosting Open Houses in June and July that will give Swan River residents an opportunity to see their new entertainment options. Dates will be announced shortly.
About Westman Communications Group
Westman Communications Group is the operating name for Westman Media Cooperative Ltd., which provides service throughout Western Manitoba. Westman is a customer-owned cooperative, which operates cable systems in 36 communities. Westman is a leader in communication services including cable TV, Internet and phone. Westman also owns and operates local radio stations 880 CKLQ and 94.7 Star FM, which broadcast throughout Western Manitoba. Westman is proud of its strong commitment to its customers and the communities it serves.