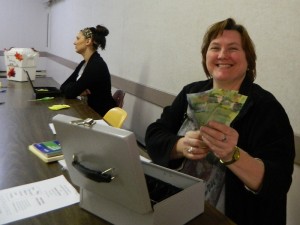 Submitted by:
Sherry Martin |
The baked spaghetti luncheon put on by Swan Valley Animal Protection League on April 8/15 was a roaring success!
Pictured left: Marnie Waddell counts the money at the door.

Click any picture for a larger version.
People of all ages came out to enjoy a great lunch of baked spaghetti, garlic bread, salad, dessert and a drink for only $10.
Over 200 folks joined us at the Elk's Hall and had a great visit, bought 50/50 tickets, and donated not only their lunch money, but extra bucks as well to a great cause – the animals!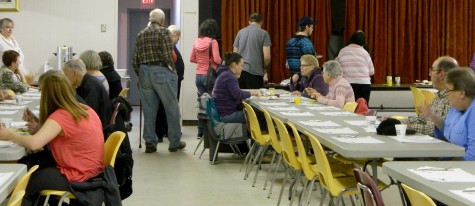 Some of the local businesses were lucky enough to sign up early and have their lunch delivered to the door thanks to Brian Minish and Kathy Fisher.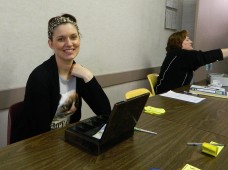 Everybody pitched in to make the time and the work load go quickly, and before we knew it, the lunch was over. The draw for the 50/50 was made at the end of the lunch, with Bernice Gordon as the lucky winner of $263.50.
Pictured left: Coreen Stewart sells 50/50
SVAPL would like to thank all of the wonderful people that so generously donated all the tasty baked spaghetti and delectable desserts, as well as the rest of the food and drink needed for the lunch.
Last but certainly not least, a huge bouquet of gratitude goes out to all the gals and guys that worked so hard to make this lunch a great success.
| | |
| --- | --- |
| Mitch Carstairs, Kathy Fisher, Audrey Sercombe and Angie Hinchliffe serve lunch to Krista and Susan | He hid his face but we know it's Gifford Grant |
Without all of the worker bees, a lunch like this would not be possible. And to all of those that just pitched in and helped at the last minute, thank you so much. The hard work from everyone doesn't go unnoticed and is greatly appreciated.
See you at our next big fundraiser, the annual SVAPL Banquet, September 26/15 at the museum hall.