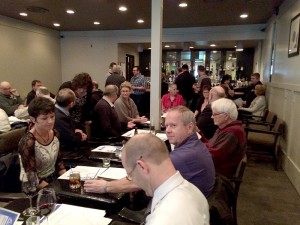 Submitted by:
Erin Brown |
SWAN VALLEY CHAMBER OF COMMERCE
Annual General Meeting
Westwood Inn March 25, 2015
7:00 p.m.
Informal appetizer supper was served by the Westwood Inn.
1. Welcome – President Heather Nielsen.
2. Greetings from the Town of Swan River – Councillor David Moriaux brought greetings on behalf of the Town of Swan River, and then presented the Swan Valley Chamber of Commerce with a $2500.00 grant towards the annual Thompson Trade Show expenses.
3. Special Guests – North Mountain Riders and Swan Valley Snowmobile Association – Mel Edmundson presented a report on the organizations, and how they work to improve sledding around the entire Swan Valley area. He also spoke to the award of being named "Sledtown" for western Canada by SnoRider magazine. He encouraged all in attendance to get out and enjoy the many trails in the Swan Valley.
4. Adoption of the agenda: Warren Genik/Gillian McGrath Carried.
5. Adoption of the 2014 AGM Minutes: Bev Potten/Brian Gilroy Carried.
6. Business arising from the Minutes: None.
7. Presentation of the 2014 Audited Financial Report: Marc Provencher from BMP Accounting presented the audited financial report.
Motion to Adopt 2014 Audited Financial Report: Kevin Neely/Naomi Neufeld
Carried.
8. President's Report – Heather Nielsen
President Heather Nielsen discussed the discontinued Town Beautification program. The main reason the Chamber can no longer facilitate the program is financial. President Nielsen also issued a challenge to all members that question "What does the Chamber do for me?". The response is that the Chamber can be a strong group, but currently there appears to be a lot of apathy towards the Chamber. It is time for a
change. President Nielsen reminded attendees that there are General Membership meetings held quarterly, and there are a number of committees individuals could join who want to contribute their time, but require flexibility in order to do so. President Nielsen concluded by saying that she hopes the Chamber is able to take a more active role in lobbying, as well as encouraging more new business in the Valley.
9. Nomination Report: Warren Genik read the list of people that let their name stand for directors: Naomi Neufeld, Heather Nielsen, Kevin Neely, Bev Potten, Jodi Willis, Brian Gilroy, Jack Dyck, Gillian McGrath, Warren Genik. Warren asked three times for nominations from the floor.
Motion: That nominations for 2015 Board of Directors Cease.
Bev Potten/Gillian McGrath Carried.
Motion: To adopt the Nomination List for 2015.
Brian Gilroy/Bev Potten
Carried.
10. Guest Presenters
a. Bruce Kirkpatrick, Investors Group – Bruce did a presentation on the Group Insurance benefits available through Investors Group.
b. Colleen Eisner, Cook & Cooke Insurance/Financial – Colleen did a presentation on the Group Insurance benefits available through Cook & Cooke Insurance/Financial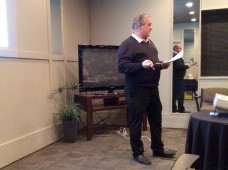 c. Kelli Riehl, Swan Valley School Division –Kelli, accompanied by Cam Mateika and Gary Wowchuk, invited discussion and comments on the upcoming "Technology Incorporation into Education" which the School Division will be working on in the coming months.
11. Website Presentation – Warren Genik – The new Swan Valley Chamber of Commerce website is live with some new features, including an online printable directory and job
board. Warren invited comments and suggestions be directed to Erin Brown at the Chamber office.

12. Open Forum:
a. Erin Brown, Swan Valley Chamber of Commerce, presented this year's parade theme "Showcasing Swan Valley".
13. Closing Remarks and 50/50 – Director Kevin Neely thanked all for attending. A 50/50 raffle was made for $105.00. Winner was Bev Potten.
Motion to Adjourn: Warren Genik, 8:40 p.m.