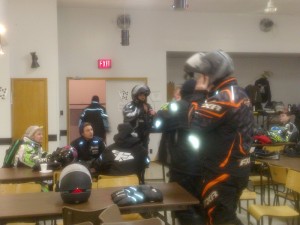 Submitted by:
Connie Beaudry |
The Bellsite Poker Derby took place on February 22, 2015. The 75 mile poker derby trail is part of North Mountain Riders Snow Riders Magazine's most favourite sledding destination of 2015 and it wasn't a disappointment.
Click any picture for a larger version.
Sure the weather was cold , minus 36 but these sledders are a tough lot and the day was bright and the scenery beautiful.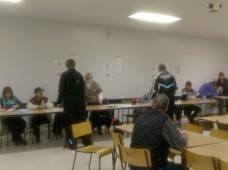 The day started at 10 am with sledders coming in to register until 1 p.m.. 167 driver hands sold with 254 ghost riders. You don't have to have a sled to participate and some chose to come out for a day of camaraderie, play cards and enjoy a great meal.

We had a nice turnout of businesses wanting to advertise their business by donating a door prize. We had 7 very nice prizes for the silent/penny auction. Michael Beaudry of Gold Rush even sent a signed photo with some Yukon gold, congrats to the lucky winner.

Janet Potton was the winner of the 50/50 draw and took home 290.00. Top prize went to Ben Judson (4 of a kind 8's), a ghost hand $830.10. Mel Edmunds was the driver and took home $92.25 for his troubles, 2nd prize Taylor Tulman $691.80 (4 of a kind 6's, 3rd prize Nick Filuk $230.60 (full house A's & 8's) most ghost riders went to Brian Dawson $461.20 with 42 ghost hands and a very special thank you to Larry Unger with 40 ghost hands.
After all the festivities were over, we sat down to a full meal of roast beef, sweet and sour pork, homemade pork and beans, homemade cabbage rolls and filled up with potatoes, salads and hot veggies. If you were not full enough, you could top all this off with a piece or two of homemade pie and ice-cream.
We thank Spruce Products and Prairie Forest Products for serving up some hearty snacks at the warm up spot at Steeprock Lake. We thank and appreciate everyone who made our day special: donators of time, goods, cash and the sledders who braved the cold start of the day to support our community.