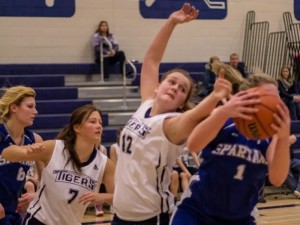 Submitted by:
Paula Shevernoha |
The 1st Annual Credit Union Classic proved to be a great weekend for varsity girls basketball at the SVRSS. 8 teams competed in the tournament, with the Kamsack Spartans winning 1st Place.
Click any picture for a larger version.
All teams played three games throughout the weekend and competition was strong in many of the games.
Tournament standings are as follows:
Credit Union Classic Champions: Kamsack Spartans over Grandview Spartans 48-37
3rd Place: Swan Valley over Kelvington 57-18
Consolation Champions: Oscar Lathlin over Winnipegosis 44-35
7th Place: Hudson Bay over Major Pratt(Russell) 39-28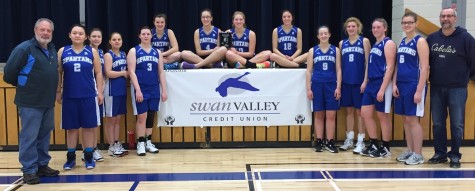 Subway Player of the Game Winners:
Swan Valley Tigers: Tayler Fleming, Jillian Maga & Halley Vessey
Kamsack Spartans: Kaitlyn Placatka, Jaelyn Dietz & Ali Thomsen
Grandview Spartans: Bobbee Morriseau, Mae Branconnier & Kendra Tophan
Winnipegosis Lakers: Shavanna Genaille, Kaitlyn Janes & Becky
Hudson Bay: Jordan Smith, Tori Bernard & Maddie Meadows
Oscar Lathlin Wolverines: Taylor Sinclair, Christie Campbell
Kelvington: Megan Gall, Jocelyn Marquette & #15
Major Pratt Trojans: Aaron, Kendra & Celeste
Thank you to all those who came out to support our Swan Valley Tigers! And a special thanks to our team and tournament sponsors; Swan Valley Credit Union & Subway.