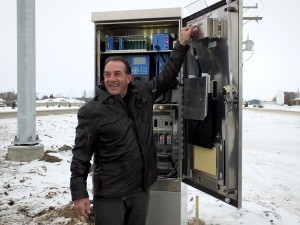 Province of Manitoba Media Release |
Students, pedestrians and motorists will be safer following activation today of new traffic control signals on PTH 10 at Third Street N in Swan River, Infrastructure and Transportation Minister Ron Kostyshyn announced on January 15, 2015.
"Swan River is a growing community with increasing traffic flows that require more safety measures to ensure the safety of motorists and pedestrians," Minister Kostyshyn said. "The new signals and lighting at the intersection of PTH 10 and Third Street N are a major step toward protecting residents and visitors to Swan River."
On average, about 5,000 vehicles pass through the intersection each day, the minister said, adding the total cost of the new signal equipment was about $250,000.
"Commercial traffic and tourists visiting the region will also benefit from these new measures that will improve safety for everyone at the intersection," Minister Kostyshyn said.