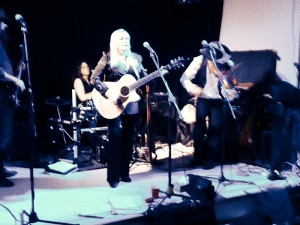 Submitted by:
Wade Kovachik
The Ukrainian New Years Dance was held on Saturday, January 10, 2015 at the Cowan Community Centre. The Adrienne Gaudry Band put on a good show filling the Centre with music till approximately 1:30 am.
Pictures by Roseanne Coma
Click any picture for a larger version.
The attendees may have been few, but the dance floor was full most of the night.
A local fiddler, Morgan Cryderman, even had a chance to make a guest appearance for a few songs leading to applause/praise by the majority in the building.
A light lunch was served and enjoyed by many.
Thank you to everyone who attended and supported our function. A special thank you to the many volunteers that participated in this event by bartending, preparing/serving lunch, selling tickets, etc.