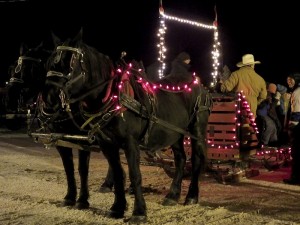 ValleyBiz.ca Story |
There was a lot of good old fashioned Christmas spirit at the Minitonas Down Town Christmas Party on December 19, 2014.
The annual event is sponsored jointly by the Town of Minitonas and the RM of Minitonas.
Click any picture for a larger version.
Many people from the community stopped by to get in the Christmas mood and enjoy some hot dogs and hot chocolate.
While children played, adults gathered around the bonfire to share stories and enjoy each other's company. The conversation was as warm as the warm weather.
Young and old enjoyed the festive sleigh rides – the perfect way to end the evening.