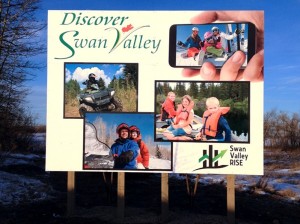 Swan Valley RISE Media Release |
Swan Valley Regional Initiative for a Strong Economy (RISE) announced today the installation of several tourism signs designed to raise awareness of some of the many outdoor activities visitors can enjoy in the Swan Valley.
Photo Courtesy of Sign Here
Click for a larger version.
Developing the Swan Valley region as a visitor destination is one of the 3 main priorities for RISE and these signs are part of a growing inventory of promotional material for the Swan Valley. RISE has designed trade show resources, a Swan Valley Attractions YouTube video and a medical services brochure that have all been used by various groups to promote the Valley. "We are very impressed with the signage that RISE has implemented entering our Valley and also the beautiful brochures showcasing the great things we have to offer in our Valley." said Bev Potten, Chairperson of Valley in the Mountains Tourism Inc. "Tourism in the Swan Valley is a huge challenge for any one group to take on. If we all do our part we can make a tremendous difference." she added.
The purpose of the signs is to identify the Swan Valley as a region and to capture the attention of people travelling through or visiting the Swan Valley for business, sports, medical and other reasons. The 16 foot x 12 foot signs were designed by RISE and feature pictures of skiing, snowmobiling, fishing and atving. "Many groups and organizations have worked hard to develop these outstanding recreational opportunities." said Economic Development Officer, Shauna Klekta, "We want to make sure people are aware of these attractions so they will come back and spend time and tourism dollars in our community."
The signs were manufactured locally by Sign Here and are being installed strategically near key entrance routes to the Valley. The first two signs have been installed north of Mafeking on Highway 10 and south of Pine River on Highway 10. Additional signs will be installed west of Benito on Highway 49 and south of Benito on Highway 83.
Special thanks were extended to the landowners for generously providing the space to install the signs, and to the funding providers. RISE received several grants earlier this year to help fund the project, including $15,000 from the provincial Partner 4 Growth program and $1,500 from Community Futures Parkland. The balance of project expenses will be paid for by RISE which is funded entirely by partner municipalities. "Designing the signs, applying for grants, obtaining landowner approval and securing the necessary highway sign permits has been a lengthy process" said Klekta, " but it is really satisfying to see the signs going up and to know the positive effect they will have."
As part of the project grant, RISE will also be developing a brochure that promotes other aspects of the Swan Valley as visitor destination and smaller community signs that will reinforce the Swan Valley as a regional brand.