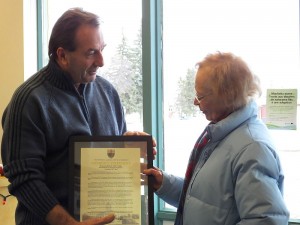 ValleyBiz Story |
On December 13, 2014 Ron Kostyshyn, MLA for Swan River presented Yvonne Walker with a Member's Statement in recognition of the contributions made by her late husband, Dick Walker, to the Swan Valley Community.

The following Member's Statement was read in session at the Manitoba Legislative Assembly and put in the archives at the Legislative Building.
Manitoba Legislative Assembly
Member's Statement
Ron Kostyshyn, MLA Swan River
November 28, 2014

Richard "Dick" Walker
Volunteers form the backbone of any strong community. Those who dedicate their time and energy towards the good of the whole community need to be recognized as the real life superheroes they are.
This year, on the 23rd of September, Richard Walker passed away. Known to his friends, and family, as Dick Walker, this man dedicated his life to volunteerism and to the community of Swan River. Throughout his life Mr. Walker served as a member and a president of the Swan River Rotary for over 20 years and the Swan River Agricultural Society for over 50 years. He also worked tirelessly as a volunteer for Ducks Unlimited for 30 years. Mr. Walker was town councillor in Swan River from 1972 to 1980 and after that continued to sit on the Swan River parks and recreation committee.
As an avid outdoor sportsperson and enthusiast, Mr. Walker pushed for the construction of the Richardson Wellness Centre which provides programming like swimming classes and aquafit sessions all year round. Mr. Walker was also the visionary and driving force behind the establishment of the Duck Mountain Forest Centre. He lobbied local businesses and government in support of an education centre that offers five hiking trails and information about the Duck Mountain Provincial Forest for those who love to explore the beautiful province of Manitoba.
For the work this man has done for the Swan Valley, he was well respected by all. He was honoured by the Queen Elizabeth II Diamond Jubilee medal in 2012 for his significant contribution to the community. This spring, our First Minister presented Mr. Walker with the Volunteer Service Award for his exceptional work as a volunteer. Yet, even with all these impressive accolades, Mr. Walker remained humble in character, epitomizing the greatest traits in a community leader.
My condolences go out to Mr. Walker's family, his wife, Yvonne, his sons, Bob, Gordon and their families.
When we lose someone as great as Dick Walker, I believe the best way we can honour their memory is to try and do our best to emulate their strengths. We will remember Mr. Walker for his passion, energy and commitment to our community for a long time.