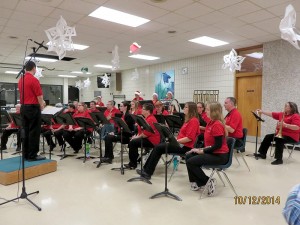 Submitted by:
Jayne G. Leadbeater (Minish) |
The Swan Valley Community Band performed their 20th Christmas Concert on Wednesday, 10 Dec. 2014 in the Cafeteria of the Swan Valley Regional Secondary School.
Click any picture for a larger version.
Above: Swan Valley Community Band, 1994–2014, anticipating the Musical presentation for its 20th Christmas Concert that is just ready to begin.
1994 saw the first ever Community Band, and here we are still going strong. There are about 30-35 regular members who may or may not participate each year.
Little hiccups always prevent a full roster participating, but we persevere no matter what. The music, the friendship, the socializing and the relaxation keep everyone wanting to return.
Our regular Band Director, Julie Kooistra, and also founder the Swan Valley Community Band, took a leave of absence for a half year. Dave McGarry, Band Director of ESRSS, Glenda Turton, Band Director SVRSS, and Martyn Snell, former Band Director SVRSS, have lead the Band since September. All these Directors are regular members of the Band, and we are very fortunate to have them. Our gratitude is immeasurable because of their willingness to accept this responsibility and commitment.
80 people attended and after a successful performance by the Concert Band, everyone was invited for Christmas Treats.
| | |
| --- | --- |
| A dozen of your favourite Christmas baking supplied by each Band Member. | Socializing after the Concert, putting the Christmas in Christmas Concert. |
| | |
| Hot Apple Cider & Christmas treats after the Concert | Christmas Concert would not be Christmas without Christmas Goodies |
The Tarnished Brass, a Brass Trio of some of our members, entertained the audience with a few numbers, as well.
On Wednesday, 14 January, 2015 we resume our practices for the next semester, we always welcome new members. Lucky for us, two SVRSS Concert Band students have joined the Community Band, sharing their talents with us. And, we are hoping they will continue next year for our 2015-2016 semesters. Because they are planning to continue in Music at the University level, they find our group gives them more exposure. And, we are very happy about that!