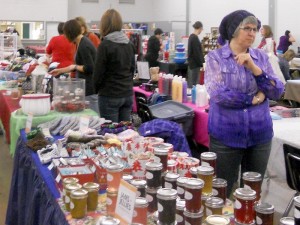 Submitted by:
Karen Gade |
The Benito United Church craft/trade soup/sandwich was once again the place to be on Sat. Dec. 6, 2014. 38 tables lined the Benito Rec. Centre Hall with vendors displaying everything from baking and sewing to home business merchandise.
Click any picture for a larger version.
Above: Sherry Popoff with her large selection of home made jams & jellies.
The weatherman came through with the promise of mild temperatures making it favourable for shoppers to travel from all parts of the valley and neighbouring Saskatchewan. Thank you to everyone who showed support by attending, donating food items for lunch, baking for the United Church bake table and to everyone who pitched in to help in the kitchen, with table set up and clean up.
Everyone enjoyed the variety of delicious homemade soup, sandwiches, pie, and coffee and took advantage of the opportunity to socialize.