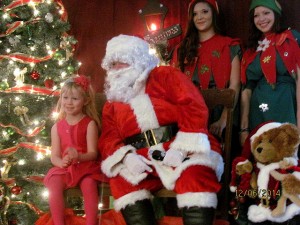 Submitted by:
Susan Hrycyk
Everyone had a great time at the Lenswood Community Hall on Sunday December 7,2014.
Every one enjoyed pancakes, sausage and some great desserts.
Click any picture for a larger version.
The kids enjoyed playing with each other while they awaited Santa's arrival and the adults enjoyed coffee and good conversation.
The kids took some time to guess how many candies were in the jar and hoped that they would be the one to win it. They also enjoyed putting their names in on the silent auction.
Santa arrived at 11 and with some help from his elves he listened to each child as they told him what they would like for Christmas this year.
We would like to extend a big thank you to all those that helped make this day a special one.