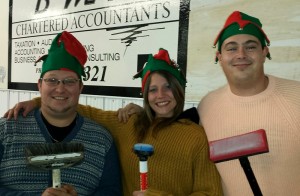 Submitted by:
Leigh Osatchuk |
December 6th the Benito Curling Rink and Shaker City Lounge was the host to the 2nd Annual Season Opener FunSpiel. Teams with curlers from all ages took to the ice to have a fun filled evening.
Click any picture for a larger version.
Scoring was non-traditional having players pick their instructions after the completion of each end.
After the games ended everyone was invited to enjoy wings and beverages and snacks for the children. A terrific way to kick off the season.

Thank you to everyone who worked so hard to get the ice and building ready for opening weekend.