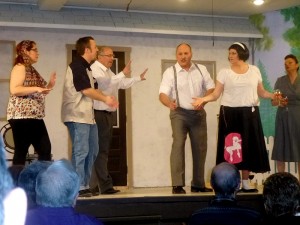 Submitted by:
Lloyd Gilchrist |
The Valley Stage Players' production of Norm Forster's "Hilda's Yard" received rave reviews from three very appreciative audiences over the weekend.
Click any picture for a larger version.
The production opened to an enthusiastic audience present at the Community Foundation of Swan Valley's popular dinner theatre evening this past Friday night.
The Valley Stage Players hosted their own presentations on Saturday evening and Sunday afternoon. Again, the audience members showed their appreciation with rounds of hilarious laughter, hearty rounds of applause, and many positive comments.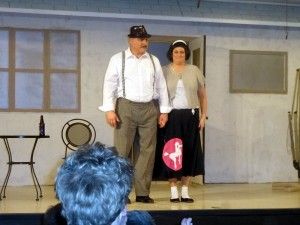 The family comedy set in the mid nineteen fifties was directed by Rachel Puchailo and the cast consisted of Rhonda Mante, Lloyd Gilchrist, Dave Somerville, Kimberley Knowles, Lisa Chan, and Denis Beaudoin.

The fabulous set design and construction was by Paul Freed. Lighting was done by Barry Chan, sound by Nelson Windsor, and stage manager was Lana Edmunds.
The play will be presented twice more this upcoming weekend for two private functions.