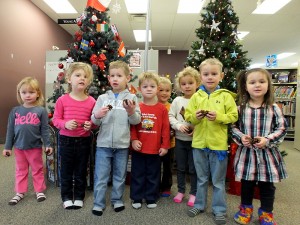 Submitted by:
Gill McGrath
with pictures from ValleyBiz
The Festival of Trees saw over 200 people pass through over the week.
Over $200 was collected for the Christmas Cheer Board along with lots of groceries.
Click any picture for a larger version.
The best tree category was won by Hayes Childcare Centre (left).
The event was organised by the Swan Valley Chamber of Commerce, Swan Valley Settlement and Immigrant Services and the North West Regional Library.
After everyone had a chance to carefully inspect the gingerbread houses and cast their pine cone vote for their favorite, the best gingerbread house went to the staff at the Co-op.
Many colorful and creative trees help bring some festive spirit to the Northwest Regional Library.