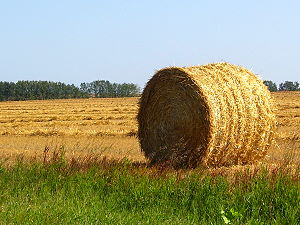 Northwest Region Crop Report Prepared by: Manitoba Agriculture, Food and Rural Development October 14, 2014 |
Northwest Region
Cooler conditions and snow prevailed at the beginning of the week in the Northwest Region, but a return to good weather for the rest of the reporting period aided harvest operations. Some producers have completed harvest. However, there are localized areas north of Roblin, as well as in the Ste Rose and McCreary areas, where producers are still challenged with wet field conditions. These areas still need another couple of weeks of good harvest weather to complete combining.
The wheat harvest is approximately 95% complete in most areas of the region with the exception of localized wetter areas where it is estimated that only 50% of the wheat is combined. Reported wheat yields range between 40 to 70 bu/acre of average quality grain.
About 90% of the canola crop is swathed and 60 to 100% is combined. Reported canola yields range from 35 bu/acre to over 50 bu/acre. The quality of canola harvested to date is reported to be good; however, some is being taken off tough.
Harvest of soybean and flax acres is well underway in the southern areas of the region and to a lesser degree in the Swan River area. Harvest of field peas is generally complete with an average yield of 40 bu/acre and good quality. Tillage operations took place in many parts of the region. Another week of favorable weather would allow most producers to finish this year's harvest.
Greenfeed harvest is continuing with improved drying conditions. All haying operations are nearly complete with very little native hay harvested this year.