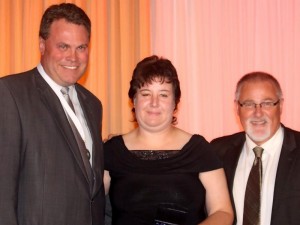 Submitted by:
Shirley Todosichuk
Special Olympics Manitoba Parkland Region is honored to announce
the selection of June Mosiondz, Swan River as the Special Olympics Manitoba 2014 Female Coach of the Year!

Click any picture for a larger version.
June is the coach of the Special Olympics Manitoba Parkland Regions Tiger Fire Floor Hockey Team, Tiger's Bowling Team, and Athletic Team and was recognized at the Gold Gala Ceremony held on September 19, 2014 at the Delta Winnipeg.
The Gold Gala celebrates the outstanding achievements of athletes, coaches, officials, and volunteers of Special Olympics Manitoba from around the province.
June was chosen as the Female Coach of the Year as she represents the best of the best amongst hundreds of excellent volunteer coaches. June's commitment, dedication and compassion for the athletes and the sports of Special Olympics is truly exemplary. June embraces all aspects of Special Olympics and encourages every athlete to reach their full potential while creating and celebrating the spirit of being part of a team.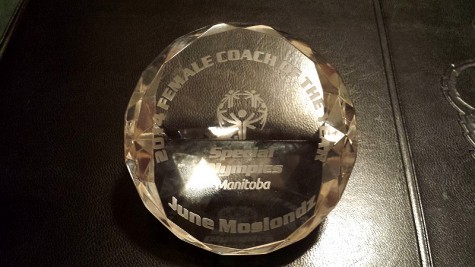 June has been coaching Special Olympic athletes at a local, provincial and national level for 10 years. She has attended many SOM Summer, Spring and Winter Games and other competitions with her athletes, most of whom come home medals. Last winter, the Tiger Fire Floor Hockey Team took first place at the Winter Games in Winnipeg. It was a proud moment for June and to have seen the joy in their faces touched her heart. This summer, June traveled to the 2014 National Games in Vancouver as the Head Coach of the 5-Pin Bowling Team. She had 15 athletes from across Manitoba and said it was an awesome but exhausting experience.
June's award has also earned her a nomination for the Special Olympics Canada National Award – 2014 Female Coach of the Year.
Way to go June! You are an inspiration to us all!
Presenting June's award is Larry Wandowich, Chief Community Relations and Marketing Officer at Manitoba Liquor & Lotteries (left) and Simon Mundey, President and CEO at Special Olympics Manitoba (right).