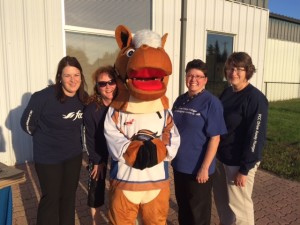 Submitted by:
Deb Zulyniak
It was an exciting evening of food collection at the Swan Valley Stampeders home opener.
Farm Credit Canada would like to thank all patrons who donated to our food collection.
If you would like to still contribute to our Drive Away Hunger Campaign which runs until Oct 17, 2014. Food can be dropped off at the FCC office, Nykolaishen Farm Equipment, Mazer Group, Burnside & Ferris and Service Canada.