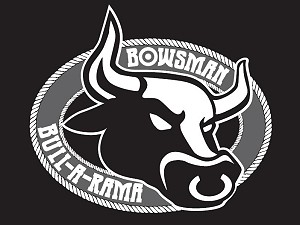 Submitted by: Bowsman and District Lions Club |
The 2014 Bowsman Bull-A-Rama Rough Stock Rodeo will be held Sat. October 4, 2014. This year we will have an exciting new event in conjunction with Bull-A-Rama, the hosting of the Saskatchewan Bucking Group's Finals.
3:00 pm Cowboy Steak BBQ
7:00 pm Bull-A-Rama Event
9:00 pm All Ages Welcome Dance
Cowboy Steak BBQ and Saloon
Get here early and take a wagon ride to the Bowsman Curling Rink to enjoy a steak and live music at the Old Western Family BBQ and Saloon on Saturday afternoon before the Rodeo starts. Kids accompanied by a paid adult get a free hotdog and drink. Music will be provided by the Ken Thompson Band. There are also rumours that the wanted outlaw Bad Bart, who was captured after the "shoot out" at last year's BBQ, is looking for revenge after his escape from the gallows.
Bull-A-Rama Rough Stock Rodeo
The Saskatchewan Bucking Group is promoting the Saddlebronc and Bareback horse riding events to younger riders and this year the top three riders in each event will be riding in Bowsman. Come and see the future champions in the sport of rodeo makin' eight, just like past Bowsman Bull-A-Rama competitors who are now PBR bull riders, Tanner Byrne and Zane Lambert. Tanner was fifteen years old when he won in Bowsman and said that Bull-A-Rama was the first event he ever rode in.
We will also have top riders from the Canadian Cowboy Association competing in the Saddlebronc, Bareback, and Bullriding events for a spot in the Canadian Cowboys Association Finals Rodeo. Emery Erickson will be announcing and Prime Time Rodeos will be providing the stock. Due to popular demand, the Wild Horse Race will be returning as well. There will also be a performance by Dave Cory and his Wonder Horse.
All Ages Welcome Dance
Starting at 9pm there will be an All Ages Dance featuring the bands Ken Thompson and Sonny and the Hurricanes back at the Curling Rink. Free unserviced camping in the "Snakebite Canyon Campground", so bring your campers and tents if you want to stay the night. We will also have the Safe Ride Home service available again.
There will also be a 50/50 draw as well. All proceeds will be going toward the Swan Valley Health Initiative.
TICKETS
2 FREE TRIPLE PAC TICKETS will be given out on the 2014 Bowsman Bull-A-Rama Rough Stock Rodeo Facebook Event page. A Triple Pac ticket will get you into the BBQ, Rodeo, and Dance. Join as a Guest who is Going to be eligible. Don't forget to Invite your family and friends. Winners will be decided a week before on Saturday, September 27, 2014.
Ticket prices are as follows:
Triple Pac (BBQ, Rodeo, and Dance)
$40 Advance Only (by 5pm Friday, Oct.3rd)
Steak BBQ – $20
Bull-A-Rama Rough Stock Rodeo event
$12 Advance (by 5pm Friday, Oct.3rd)
$15 – On Day Of Event
Dance – $15
Tickets are available from Bowsman Lions Club members or at Cook and Cooke Insurance and Financial in Swan River. They can also be purchased with Visa or Mastercard by calling Cook and Cooke's at 204-734-9421 or toll free at 1-888-979-2665 if you are from outside the Swan Valley area.