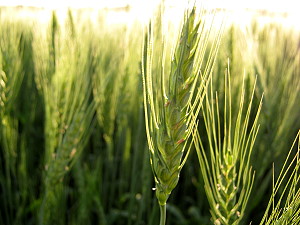 Northwest Region Crop Report Prepared by: Manitoba Agriculture, Food and Rural Development August 25, 2014 |
Northwest Region
A major weather system passed through the Northwest Region over the weekend resulting in significant amounts of rainfall and cooler temperatures. The heavy rainfall accompanied by strong winds caused crop lodging in most parts of the region. Rainfall amounts over the week ranged from 19 to over 100 mm which brought all field operations to a halt.
Regionally, approximately 85% of wheat is in the dough stage of development with the remaining 15% of acres at maturity. Producers began swathing and applying preharvest glyphosate to mature wheat stands before the rains began. Eighty-five percent of the canola crop is podded and 15% is mature. Swathing operations in canola also began just prior to the rain. In soybeans, 95% of the crop is podded with the remaining 5% flowering. The field pea crop is 75% podded and 25% ripe. Some crops are showing multiple stages of growth, particularly canola.
Harvest of winter cereals and early seeded barley crops has come to a standstill due to wet conditions. There are symptoms of fusarium head blight and glume blotch appearing in wheat. Canola fields in some parts of the region are showing signs of sclerotinia, blackleg and root rot. Wild oats, barnyard grass, foxtail barley and Canada thistle are becoming more evident in fields where the crop is less competitive. Also, cleavers are visible in canola crops. Lygus bugs are confirmed in parts of the Swan Valley where some canola fields were sprayed. The presence of swede midge larva was confirmed in a canola field the Swan Valley.
Dry weather at the start of the week allowed producers to continue with haying. However, rain stopped haying operations but provided much needed moisture for continued growth of pastures. The significant rainfall also replenished water dugouts in pastures and other water supplies.