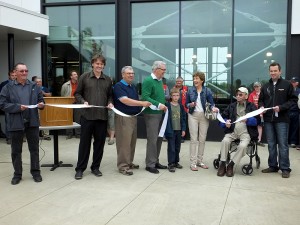 On August 22, 2014 Premier Greg Selinger, along with Agriculture, Food and Rural Development Minister and Swan River MLA Ron Kostyshyn and Swan River Mayor Glen McKenzie, participated in the grand opening of the Richardson Recreation and Wellness Centre in Swan River.
Picture courtesy of ValleyBiz
"The social and recreational opportunities this facility will bring to Swan River and its surrounding communities are fantastic," said Premier Selinger. "This new centre will be an excellent location for families to spend time together, be a venue for entertainment and help promote an active lifestyle for residents of all ages."
The new recreation and wellness centre will provide the community with more opportunities to participate in recreation activities and enjoy active lifestyles. The new 17,500-square-foot facility features an aquatic centre with a four-lane, 25-metre pool, a leisure pool with gradual entry, a lazy river, numerous spray features, family change rooms and a viewing terrace.
"Recreation centres like this one are extremely important to communities and the health and well-being of families," said Minister Kostyshyn. "These types of investments enhance our local facilities and services, while contributing to the health and quality of life for Manitobans."
"It is personally heartwarming for me to see so many people using the facility of all ages and abilities, and numbers will expand as new programs are put into place," said Mayor McKenzie. "I would like to thank everyone who contributed to this facility. You have shown that healthy living is important to our community and you have left a legacy."
The Province of Manitoba and Government of Canada each committed $2 million under the Building Canada Fund, Communities Component, as well as $400,000 each under the Municipal Rural Infrastructure Fund. The province also committed an additional $500,000 towards the project through the Building Manitoba Fund.