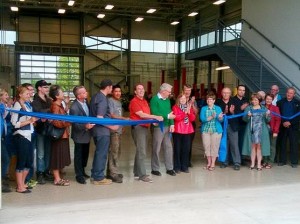 Province of Manitoba Media Release |
Premier Greg Selinger was on hand at the opening of a new heavy-duty mechanic shop on August 22, 2014 at Swan Valley Regional Secondary School (SVRSS).
The shop will be available to students this fall.
"Today our province is building like never before and rural communities have a growing demand for skilled workers and training in the trades creates opportunities and access to good jobs," said Premier Selinger. "This new facility means more students will get valuable hands-on learning experience to get them ready to enter the workforce and continue their training."
The new 7,150-square-foot shop has a drive-through bay for large equipment and four bays for working on various equipment and vehicles. The shop also provides classroom space,
state-of-the-art tools, ventilation and an abundance of natural light. With additional support from the province, the school was able to purchase an overhead crane to lift engines out of vehicles allowing for an expanded variety of training experiences for students.
Students in the program will be able to receive their high school diplomas and Level 1 apprenticeship recognition. This allows students to directly enter the workforce as heavy-duty mechanic apprentices and continue with post-secondary education to complete their journeyperson qualifications. Students are expected to be able to move into employment after graduation and the success rate has been very high, said the Premier.
"Many students are able to find work in Swan River and the surrounding area after graduation," said Premier Selinger. "That tells us SVRSS is providing students with employment skills that are relevant and in high demand in the community," said Premier Selinger. "It's another reason quality educational opportunities in the trades, offered close to home, are important for local families."
The new shop will allow the program to expand to include more full-time students and add introductory courses in grades 9 and 10.