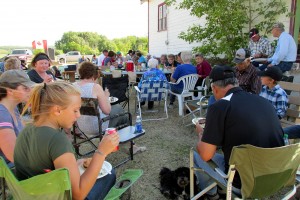 Submitted by:
Debbie Soloway
The Renwer – Fisher's Siding Annual old fashion picnic and potluck supper took place on Sunday July 20th, 2014 in Renwer at the old Fisher's Siding School.

Click any picture for a larger version.
The small committee sponsored a special celebration back in 2002 and have held the annual picnic on the Sunday before the Swan Valley "Northwest Roundup"Rodeo for the last 12 years. This year was the 100th year for the school; and the village of Renwer is 110 years old. There were about 75 people gathered to enjoy the beautiful sunny afternoon, a great opportunity to visit with family and friends.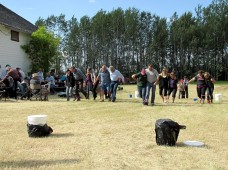 There were games for all ages to participate in, three legged race, ring toss, fill the pail with water using cans with holes in and the water balloon toss which results in some wet people and lots of laughs.



At 6:00 pm everyone enjoyed the delicious potluck supper, so many varieties of wonderful home cooked dishes, the barbequed hamburgers and hotdogs were provided by the committee.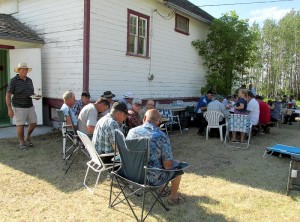 And we can't forget the table full of dainties, something for the sweet tooth, there were homemade pies, muffins, cookies, desserts and fresh fruit.
There were silent auction prizes and a 50/50 draw with Toni Hayes winning the pot.
The committee will host the event again next year on July 19th. Thanks to everyone for the great food and support; special thanks to the volunteers for cleaning, mowing, the outdoor facility, tables, generator and much more. See you next year.