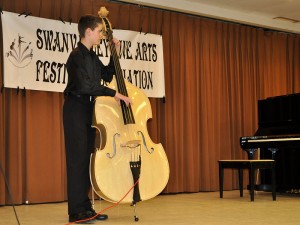 Submitted by:
Evelyn Bredin
The Swan Valley Fine Arts Association held their annual Festival Awards Concert on Tuesday, May 6, 2014 with 50 recipients honored for fine arts excellence.

Click any picture for a larger version.
Above: Desi Lagace playing double bass received Home & School Trophy for Senior Band solo and the Lloyd C. & Betty Bertram Memorial Scholarship that pays partial registration for a promising music student to attend one week at the Peace Gardens International Music Camp.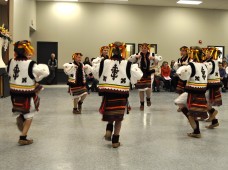 Dolyna Dancers (right) received the Swan Valley Credit Union Trophy – supporter of Festivals and one of our most generous corporate sponsors.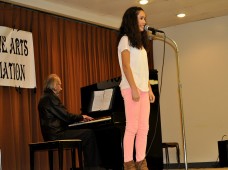 Emily Simpson (left) received Royal Purple Scholarship for Junior Vocal Solo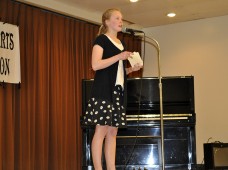 Emma Stinson (right) received the 4-H Public Speaking Award for 4-H Intermediate – Public speaking has always been a component of the 4-H program; therefore; 4-H decided to sponsor awards at the Festival to provide further opportunities to develop this skill.

Above: Wyatt Reader, Levi Reader, Hannah Janzen, Trinity Janzen, Talia Janzen, Jesse Janzen received the Gordon & Beth Jeffrey Trophy for Fiddlin' Ensemble. Gordon Jeffrey has been fiddlin' all hi life. Because fiddlin' brought him great pleasure, he sponsored trophies to encourage young fiddlers.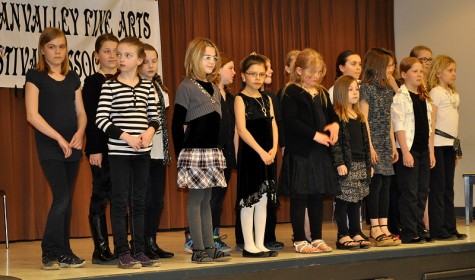 Above: Minitonas Early Years School Choir received the Swan Valley Festival Trophy. This is one of the oldest trophies that is still presented today. It was first presented in 1963 to Mrs. Goodman's Grade 7 class from Duncan School.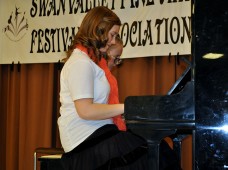 Hannah & Talia Janzen received the Frances Baird Award for Piano duet grade 3 and up. Francie has been a member of festival committee in all of her adult years. She supports piano duet playing, recalling the fun it was to play trios with her brother and sister as children.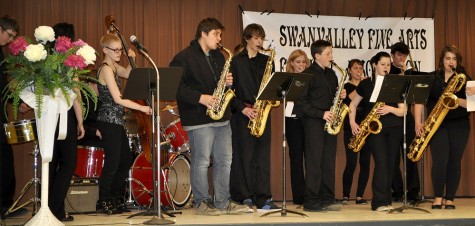 Above: SVRSS Stage Band received the TD Canada Trust Jazz Trophy. When TD was approached for a trophy for Sr. High Band, the late Larry Hames generously supported the idea and the trophy has been awarded ever since – now maintained by TD Canada Trust.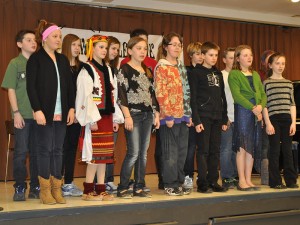 Minitonas Middle Years School received the Swan Valley Festival Trophy for Choral speaking.
This trophy was first offered in 1967, being one of the original trophies award by the Festival Committee.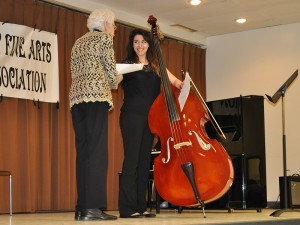 Sara Provencher receiving the Kathleen Barrett Memorial Scholarship – Kathleen was well known for years as the musician to go to when needed, and accompanist for many band soloists. The scholarship is given in her memory by her family to help with fee for music camp.