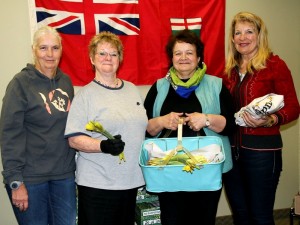 Submitted by:
Vivian Rooks
Once again volunteers from the Swan River valley have come together for a successful fundraising event.
Left to Right – Lesley Henkelman, Judy Storjord, Vivian Rooks and Louella Lausman
Judy Storjord and Vivian Rooks coordinated volunteers to distribute 1000 bunches of daffodils throughout the valley homes and businesses to bring the recipients a little bit of spring and ultimately raise funds for a whole lot of help to any of us that may need help from the Manitoba Division of the Canadian Cancer Society.
Over 35 volunteers collected preorders ahead of the day to be packaged for delivery. On the morning of the 19th volunteers met to pack the orders and over 40 volunteers spent a few very enjoyable hours delivering the bunches of daffodils throughout the valley. The Swan Valley Co-op, Extra Foods, Quick Stop, Timberland, Pizza Place and Chicken Chef were very cooperative in accommodating volunteers to sell daffodil bunches at their businesses.
This year an estimated 6400 people in Manitoba will be diagnosed with cancer. This campaign will help with frontline services and support to Manitobans on a cancer journey.