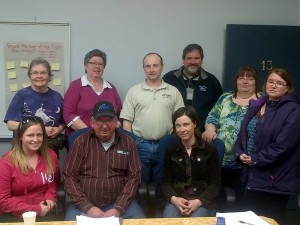 Submitted by:
Yoenne Ewald
The Swan Valley Farmer's Market held their Annual General Meeting on March 11th 2014. The meeting was well attended. Looking back over 2013, the market saw a number of new summer vendors offering a diverse range of products.
Pictured above, the Farmers' Market Board.(L to R, back) Fay Perrin, Shirley Leask, Greg Logan, Eckhard Rinsdorf, Shirley Nemez, and Jennifer Penner. ( L to R, front) Amy Hofford, Delbert Taylor, and Yoenne Ewald.
In 2013, many market days, there were only a few unfilled stalls and the market offerings included vegetables, baking, cut flowers, jams, jellies and other preserves, crafts, fish, lamb sausage, and much more. Our local market is truly becoming a destination to do a large portion of your weekly shopping.
This past season, electrical service was installed in the Gathering Place Farmers' Market structure – this will enhance the usage of the stage for community performances and will allow for use of refrigeration containers and freezers thus broadening the range of products sold at the market.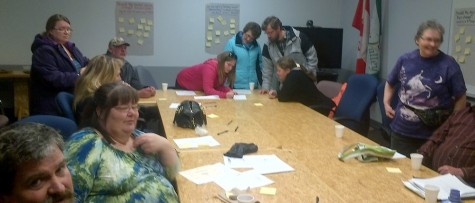 The 2014 Board of Directors includes Yoenne Ewald (president), Shirley Leask (vice President), Fay Perrin (Treasurer), Greg Logan (Secretary), Eckhard Rinsdorf, Delbert Taylor, Shirley Nemez, Amy Hofford and Jennifer.
The Swan Valley Farmers' Market looks forward to the season ahead!