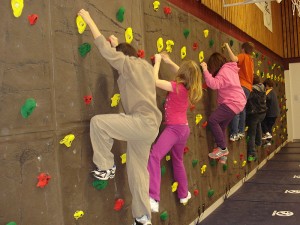 Submitted by:
Jocelyn Beehler
Community Bible Fellowship Christian School (CBFCS) recently installed a traverse climbing wall in the gym. It took the work of many individuals to make it happen.

Click any picture for a larger version.
The CBF church helped with installation, our parent advisory council (PAC) initiated the fundraising efforts, and parents and the community supported those events. PAC saw the vision of the climbing wall last fall and committed to it. We are proud to see such an awesome new addition to our school in such a short time.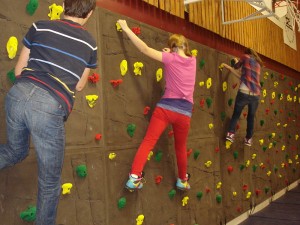 A traverse wall is different from a traditional climbing wall because the goal is not to climb up, but horizontally across the wall. This eliminates some of the dangers of falling from up high or the need for a climbing harness. Our wall is 8 ft high and 40 ft long.
There is a mat that covers the wall when it is not in use, and then lies down to act as a catch mat when we climb. Students feet are never more the 3 ½ to 4 ft above the floor and they are always supervised when using the wall.
Indoor rock climbing is one of the fastest growing activities today.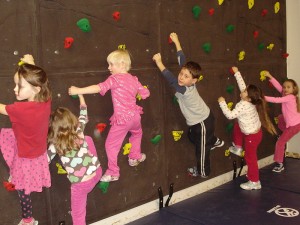 It simultaneously develops coordination, strength, balance, flexibility, agility and cardiovascular fitness. Additionally, important life skills like problem-solving, goal-setting, inner confidence, perseverance and patience are practiced.
Our school intends to incorporate a climbing unit into our PE program. We also hope to use it for special school activities. It has been very helpful during indoor recess days.
Students from junior kindergarten to Gr.8 have been able to experience climbing on the wall. Even staff members have had fun traversing the wall. The hand and foot holds come in 3 different colors and many shapes and sizes. It is challenge to stay on the wall the whole way across without stepping down, but some students have tried going across the wall only using only 1 color of the hand or foot holds. This significantly increases the difficulty. Ten students can climb on the wall at the same time. We are excited to start creating patterns for the students to follow as they traverse.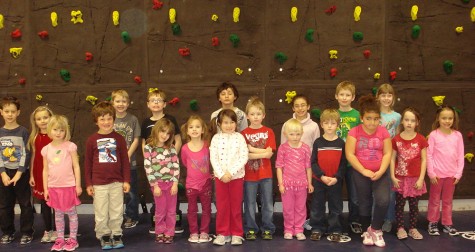 There will be a climbing wall grand opening held on March 28, 2014 here at CBFCS 5:00-8:00 p.m.
Children and adults are welcome to come and try it out. CBFCS would like to make the climbing wall available to the community, so if you are interested in using it, please contact the school at 204-734-2174 for more information.