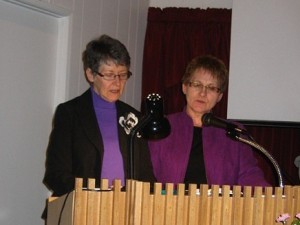 Submitted by:
Linda McCullough
Annual World Day of Prayer was held on March 7, 2014 at the Seventh-day Adventist Church with approximately 80 in attendance.


Pictured above, coordinators Donna Leming and Linda McCullough.

This years theme "Streams in the Desert" written by the women of Egypt was presented by the All Saints Ukrainian Catholic, Seventh-day Adventists, Solid Rock Community Church, St. Andrews United, St Columba's Roman Catholic, St. James Anglican, and the Trinity Lutheran Church.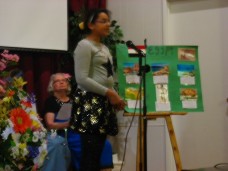 Elarea Mikhaiel gave a presentation on the country of Egypt, and then a DVD of Eygpt was viewed.
Dr Salib commented on the DVD and was open to questions.

A wonderful lunch featuring Egyptian food was provided by the spouses of Dr Salib, Dr Mikhaiel and Dr Girgis and enjoyed by all.
Artwork was displayed courtesy of Mona & Dr Salib.