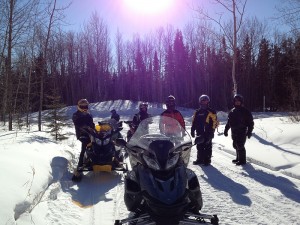 Submitted by:
Patti Hack
The Elbow Lake SnoDrifters 18th Annual Snowmobile Derby took place as scheduled on Saturday, March 1, 2014.
Click any picture for a larger version.
The frigid weather (-51 with the wind chill when we woke up Saturday morning) kept many people away however, for those of us who braved the winter weather and dressed warmly we enjoyed a wonderful ride.

Beautifully groomed trails, wonderful scenery, hot dogs and hot chocolate on the trail, and 3 warm-up shelters where we could to warm our toes and share some stories with friends.
All-in-all a lovely weekend!