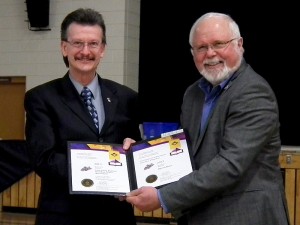 ValleyBiz Story |
Nominated by parents, former students, teachers and administrators, former SVRSS educator, Byron Ross was presented with the Prime Minister's Award for Teaching Excellence on Tuesday, February 18, 2014.
Click any picture for a larger version.
The Prime Minister's Award for Teaching Excellence honours outstanding and innovative elementary and secondary school teachers in all disciplines who instil in their students a love of learning and who utilize information and communications technologies to better equip their students with the knowledge and skills needed to excel in a 21st century society and economy.
Robert Sopuck, Member of Parliament for Dauphin-Swan River-Marquette, who presented the award emphasized that there is significant competition for the award with only 25 recipients in all of Canada.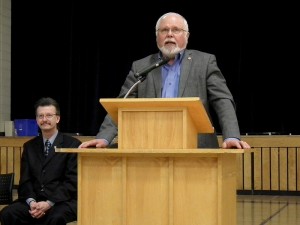 "This is considered one of the finest high schools in Manitoba." he stated noting the numerous awards on display throughout the school. "Your school sets a very high bar because of teachers like Mr. Ross."
Several former students of Ross remarked that their first few months of post-secondary education in Marketing, Economics and Accounting were simply a review of what they had learned in Mr. Ross's high school courses.
From the teacher, mentor, colleague and friend of so many, Ross response was humble,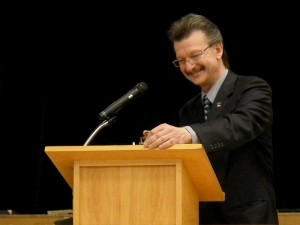 "I have always thought of myself as a small fish in a big pond. I did my job to the best of my ability and hoped it would be enough to give students the knowledge and skill that they would need to be successful. Whether it was in business or other fields, I wanted students to find something they enjoyed as much as I did teaching."
Ross began teaching at the SVRSS in 1980, retiring last year after over 30 years of educating the youth of the Swan Valley.