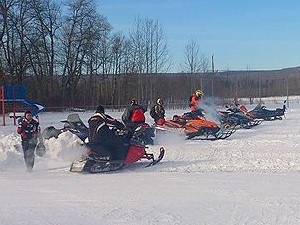 Submitted by:
Connie Beaudry
The Bellsite 35th Annual Snowmobile Poker Derby, held on February 23, 2014 was a huge success.
A total of $2,720.00 was given away in cash prizes. An estimated 150 sleds attending with over 200 registered drivers.
Garth Scott wins 10% of prize money with 53 ghostriders ( the most ghostriders prize)

A good hot home cooked meal was served with roast beef, sweet and sour pork, cabbage rolls and home baked beans to name part of the menu, and cannot forget the delicious dessert of pie and ice cream. Pie and ice cream are good even on cold winter days…..

We would like to thank …
All the drivers and ghostriders, you make our day…..special
Our warm up cabin sponsors-Spruce Products and Prairie Forest Products-delicious smokies and snacks
Our door prize donators for a great selection of prizes and cash
All radio, television and web site community ads
The many volunteers, from trail markers to shoppers to organizers and kitchen workers
We thank you all for your donation of your valuable goods, money and time.