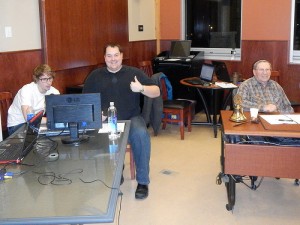 Pictures submitted by:
Scott Swaiko |
The 2013, Rotary Radio Auction was once again a great success.
On Thursday, November 7, 2013 people across the Valley tuned in to GX94 radio with phone in hand to place their bid.
Click any pictures for a larger version.
Rotary members manned the phones and auction board to keep the bidding rolling. Businesses donated 151 items for the auction with a total value of $21,453.
Thanks to the generous and competitive bidding the auction brought in $14,400, a six year high topping last years total by more than $2,800.
Proceeds from the Rotary Radio auction go to fund Rotary projects within the Swan Valley including the Richardson Recreation and Wellness Centre.