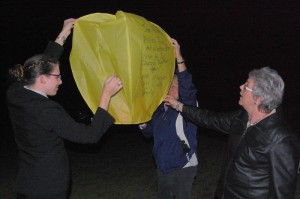 Submitted by:
Paull Funeral Home
On Wednesday October 16th, 2013 Paull Funeral Home held their first annual "Fall Lantern Lighting Ceremony".

Click any picture for a larger version.
The Lantern Lighting Ceremony was a celebration of remembrance for those who have passed away not only in the 2013 year but also for those passed away in previous years. The event was held at 7:30 PM from the Rose Room and grounds at the Heritage Memorial Gardens Crematorium with around twenty five families from near and far in attendance served by Paull Funeral Home.
It was a big hit! The response and feedback was nothing short of thankfulness and praise from the participants. Those that came thoroughly enjoyed the time they spent there preparing their special messages to loved ones written on their lanterns prior to their release in to the sky.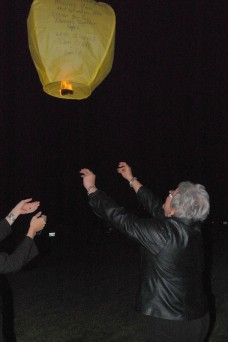 "We wanted to offer people something different and unique in comparison to our annual Christmas Candlelight Service. We hoped that those who participated would find it refreshing and healing in their journey through grief as we are fully aware that not everyone experiences grief at the same intensity or longevity as others.
Grief journeys are all very different and by offering this type of event we hoped to display a different way for our families to say farewell to or even hello again to their loved ones," explains the staff.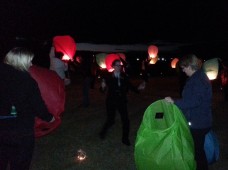 The lantern lighting ceremony was very touching and meaningful. It was a safe place for bereaved families to come together with a common reason and celebrate the lives of their loved ones, never forgotten and forever remembered.

Following the lantern portion of the ceremony friends took in a time of light refreshments, snacks and fellowship. A small token of appreciation and a gift of remembrance for coming to the ceremony was offered to each member of the families that came as well as the families that were not able to attend the event. Each person received a candle with the quote "The flame of love will never die, for it burns through the stars for eternity," printed on the holder.
There will be more ceremonies and events like these hosted by Paull Funeral Home in the future. It is a wonderful way to pay tribute to loved ones, offer support to families and let the community know that care and support for the bereaved doesn't end with the funeral. Relationships built with families over the 115 years that Paull Funeral Home has served the Swan River Valley are everlasting and cherished.