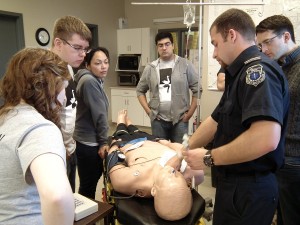 Prairie Mountain Health Media Release |
On October 18-20th, 46 medical students that are enrolled in the University of Manitoba's Faculty of Medicine participated in a weekend workshop-aimed at highlighting the benefits of practicing medicine in rural communities.
Click any picture for a larger version.
The trip was organized by the Medical School's Rural Interest Group (RIG).

The student rural interest group is comprised of first and second year medical students from the University of Manitoba, who have expressed an interest in rural medicine. Manitoba's Office of Rural and Northern Health (ORNH) facilitates the weekend workshop, which has been well-received within the health region in recent years.
Director of Medical Services Administration for Prairie Mountain Health, Michelle McKay, says the "hands on" event focuses on building career skills and promoting rural communities as great places to work and live.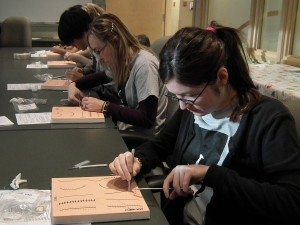 "This was a great weekend for the medical students. Clinical workstations were located at the Swan Valley Health Centre and EMS (ambulance) facility where students put their skills to the test, doing everything from sutures to putting casts on their colleagues.
We sincerely thank all of our physicians, residents, staff and volunteers who made sure the students enjoyed a great learning experience and equally rewarding lifestyle experience within the Swan River Valley," McKay said.
The trip to Swan Valley this fall was jointly organized by Prairie Mountain Health and the Swan Valley Regional Initiative for Strong Economy (RISE).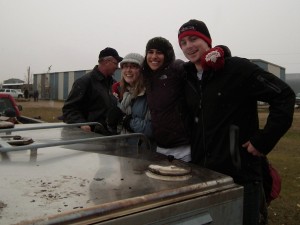 "This event was a great opportunity for us to showcase our community to a promising group of future doctors," stated Shauna Klekta of Swan Valley RISE. "I hope the students had a positive experience and gained a better understanding of the many benefits that rural life has to offer."
Aside from the clinical activities, Kletka added, students also enjoyed a tour of Swan River, followed by an evening of entertainment at the Swan Valley Historical Museum.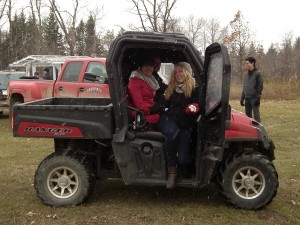 The students participated in outdoor activities including target shooting, quad rides and museum tours, followed by a pig roast with perogies, cabbage rolls and other local favorites. The students were then entertained by local musicians and roasted marshmallows around a bonfire.
Prairie Mountain Health and Swan Valley RISE would like to say thank you for the generous contributions by the many community sponsors and volunteers that helped to make the Student RIG weekend a success.