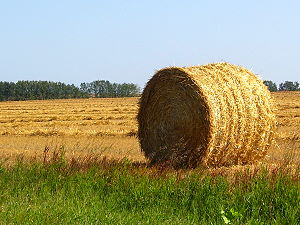 Northwest Region Crop Report Prepared by: Manitoba Agriculture, Food and Rural Initiatives GO Teams & Crops Knowledge Centre October 15, 2013 |
Northwest Region
Favourable weather, with drying winds and warm temperatures, helped general harvesting operations to continue early in the week. On Friday, a weather system brought 23 to 45 mm of rainfall across the Northwest Region. However, combining resumed on Monday in those areas where less rain occurred. Overall, harvest is 95% complete with some late season crops remaining, as well as some cereal and canola harvest in small areas.
Average yields of hard red spring wheat is 65 bu/acre with 80% of the crop grading No.1 CW and No.2 CW and proteins averaging 13.4%. Oat yields averaged 120 bu/acre with 75% grading No.2 CW. Average barley yields were 90 bu/acre with 90% grading No.2 CW. Bushel weights of all cereals were higher than average. Late season weathering due to rains downgraded some of the later harvested cereal crops. In general, low incidence of Fusarium head blight, ergot and wheat midge was reported. Producers treated some cereals for grasshopper, cereal armyworm and cutworm control.
Canola is of high quality with 100% grading No.1 Canada with yields above average at about 50 bu/acre. Approximately 5% of the canola crop remains to be combined. In season impacts of heat stress, diseases, and insect pest problems were generally low and limited acres were sprayed for bertha armyworm, flea beetles and grasshoppers.
Soybean acres are mainly located in the Ste. Rose to Grandview areas, with harvest at 60% complete. Yields ranged from 30 to over 50 bu/ac. Overall average yield to date is about 43 bu/acre and grading No.2 Canada. A very limited number of samples have some green seed present. Most of remaining unharvested acres are in the Grandview area where some later planting took place.
Hemp harvest is progressing with average yields around 600 lbs/acre; seed size and quality is very good. Peas are combined; yields and quality is good. Flax is drying down and harvest will begin shortly.
Although overall crop quality and yield is above average, some isolated problems with excess spring moisture resulted in localized drown-outs, poor root development and nutrient losses, reducing yields where these events occurred. The Ethelbert, Fork River and The Pas received seasonal precipitation significantly higher than normal.
Winter wheat and fall rye crop emergence has been good and developing well under adequate soil moisture.
The recent rain and falling soil temperatures were not sufficient to initiate general fall fertilizing application activities, although some fertilizer is being applied. Supplies are in position and general applications will be underway shortly. Other fall field work, fall weed control, straw baling and hauling is completed. Manure application on forage and crop land is under way.
Silaging of corn is almost completed, with above average quality and yields. Winter feed supplies are adequate for the region. While forage yields are average and above in most of the Northwest Region, some early season quality issues exist. With excellent cereal harvest conditions, straw supplies are adequate and of good quality. Localized forage shortages exist where excess spring moisture impacted tame and native hay lands adjacent to Lake Manitoba and The Pas. Livestock are still out on pasture. Dugout water supplies are mostly adequate.